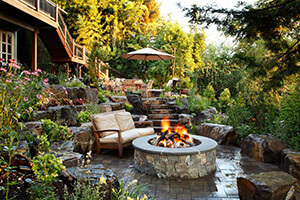 With warmer weather on the way, it's time to update your outdoor space. When it comes to creating beauty in spring landscaping, it is important to take advantage of the services of a professional landscaping company. The professionals will know how to take advantage of the Calgary weather to get you lush lawn accented by landscaping features that suit your style and budget.
When brainstorming spring landscaping ideas, try to think outside the box about how to bring some character to your property. Whether it is putting in new walkways or finally installing that fountain you have always wanted, a landscaping company can help you refresh your home.
Seven Ideas to Improve Your Spring Landscaping
Design a stone archway to welcome guests to your backyard.
Add a concrete patio. For a natural look, a concrete company have the concrete stamped to make it look like stone.
Install a water feature to create a soothing backyard oasis.
Add an outdoor fireplace to create a focal point for gatherings.
Wind a stone pathway through your garden to create more space for your guests to explore your backyard.
Invest in a sprinkler system to make sure your lawn stays lush and green.
Replace any existing wood structures with concrete or interlocking stone for easy maintenance and long lasting beauty.
Spring Landscaping Improves the Look and Feel of Your Home
A spring landscaping update can drastically improve the appeal of your yard. A professional landscaping company will take the time to design an outdoor space that you and your guests will love.
Update your landscaping in time for spring with Apex's professional landscaping and concrete services.
Apex Landscaping and Concrete is a leader in providing Calgary homeowners with landscaping and concrete services that last. Apex Landscaping has the experience to design a unique space that suits your tastes and respects your budget. Transform your outdoor space into something spectacular. Questions or comments? Contact us by phone at 1 (403) 333-6633 or email us at [email protected] www.apexlandscapingltd.com