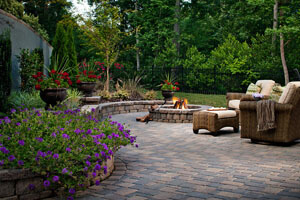 The truth is the look of your home can be drastically improved when you have a beautifully maintained garden and landscaping.
How to Make Your Landscape Luxurious:
You don't have to spend thousands of dollars on landscaping to make your backyard look unique and appealing. Here are some of our landscape experts' tips to that can give your backyard a luxurious makeover.
Add Beauty with Bright Flowers and Shrubs:
Instead of choosing seasonal flowers and shrubs, select the native plants for your backyard. Most of these indigenous plants are perennials and grow really well in arid conditions. These plants require minimal maintenance and create a natural habitat for wildlife too.
Create the Perfect Lawn for You:
A well-maintained lawn not only adds greenery to your backyard, but it also improves the value of your home. Maintaining a lawn is however very important. Consider installing a good-quality sprinkler system to avoid the hassle of year-round irrigation. You can always hire a professional lawn maintenance professional lawn maintenance service provider for grass mowing, maintenance and other services.
Create the Ideal Outdoor Space:
There is a no better way to catch up with friends and families on a warm evening at an outdoor entertainment center in your backyard. When it comes to an outdoor entertainment center, there are endless possibilities. You can create concrete pavements, a beautiful shaded patio, customize your outdoor space by adding a fire pit, and add flower beds too. Talk to your local landscaping and outdoor living experts for more ideas.
Find the Right Landscaping Service Provider in Calgary:
Many professional landscaping services now offer landscaping and concrete services that include walkway makeovers, property maintenance and landscaping packages. Create a unique and luxurious landscape today by choosing the right landscaping contractor in Calgary.
Create Your Ideal Space with Apex Concrete
Apex Concrete and Concrete is a leader in providing Calgary homeowners with landscaping and concrete services that last. Apex Concrete has the experience to design a unique space that suits your tastes and respects your budget. Transform your outdoor space into something spectacular. Questions or comments?
Contact us by phone at 1 (403) 333-6633 or email us at [email protected] www.apexlandscapingltd.com
Save