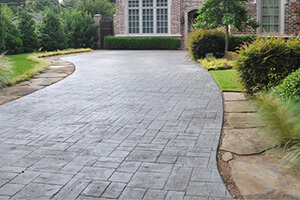 One of the benefits of concrete driveways is how little maintenance they require. However, even concrete is not maintenance free, so taking a little time to care for your concrete driveway helps it continue to look great year round.
Maintaining Calgary Concrete Driveways
Calgary concrete driveways are easy to maintain; the following tips help you keep your concrete driveway in mint condition.
Seal Your Driveway
Cleaning and applying sealant to your concrete driveway protects it from exposure to weather and traffic. Reapply sealant when the finish begins to show wear or approximately every two years.
Remove Stains Promptly
Remove grease, oil, gasoline, and other spills quickly to reduce the chance of staining. If you do notice a stain, promptly pressuring washing the area and using cleaning chemicals should remove the discoloration.
Avoid Deicing Chemicals
Deicers can cause surface damage to your driveway, primarily spalling and scaling. Instead, use sand for increased traction on Calgary concrete driveways.
Protect Your Driveway from Excess Wear
Concrete is a highly durable material, but, even so, most residential driveways aren't designed to support heavy vehicles or large construction equipment.
Treat Your Driveway with Care
Shovel or plow your concrete driveway carefully and avoid metal blades to reduce the risk of scratching or scraping the surface.
Resurface with Calgary Concrete Contractors
Spruce up your driveway by resurfacing it to improve the resistance, wear, and performance of your concrete driveway. Concrete companies in Calgary can perform resurfacing so your driveway looks beautiful again.
Choose Concrete Companies in Calgary with Care
Working with professional Calgary concrete contractors allows you to make sure that your driveway is completed with the utmost precision and attention to detail. Mistakes can be costly and make your concrete driveway wear faster than it should. Always choose trusted concrete companies in Calgary for all your concrete projects.
Apex Concrete is a trusted Calgary concrete contractor that will transform your home with durable and beautiful concrete pieces.
Apex Landscaping and Concrete is a leader in providing Calgary homeowners with landscaping and concrete services that last. Apex Landscaping has the experience to design a unique space that suits your tastes and respects your budget. Transform your outdoor space into something spectacular.

Questions or comments? Contact us by phone at 1 (403) 333-6633 or email us at [email protected]
www.apexlandscapingltd.com