Stamped concrete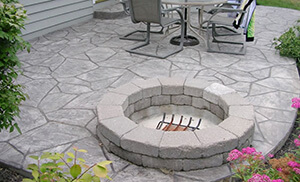 is a strong finishing surface material for property owners who are working on their walkways, patios and driveways. This material can resemble both stone and brick but can cost considerably less. Stamped concrete is a good choice for property owners who have smaller budgets but want to add an intricate design to their driveways or walkways.
Stamped Concrete is Quick and Easy to Install
Stamped concrete offers the convenience of quick and easy installation. Stamped concrete is not as time-consuming as other options. The process generally entails blending, pouring and, finally, stamping the concrete into a design.
Choose Between Many Design Options
If you enjoy having lots of design options, stamped concrete is the perfect material for you. Stamped concrete allows you to select the texture, color, and pattern for your concrete driveway, pathway, or patio. You can select the style that best suits your individual preferences and tastes. You can even choose a design that replicates the beauty of weathered lumber and marble. Stamped concrete is beneficial for property owners who love having the option of versatility and diverse decorative choices.
Refresh Your Home's Exterior
If you're considering adding a concrete driveway, pathway, or patio to your home, consider stamped concrete for your home. A concrete contractor can help you decide which colors or designs will work best with your home to make your property shine.
Contact Apex Concrete Services Ltd. today to learn more about stamped concrete driveways and pathways.
Apex Concrete and Concrete is a leader in providing Calgary homeowners with landscaping and concrete services that last. Apex Concrete has the experience to design a unique space that suits your tastes and respects your budget. Transform your outdoor space into something spectacular. Questions or comments?
Contact us by phone at 1 (403) 333-6633 or email us at [email protected] www.apexlandscapingltd.com