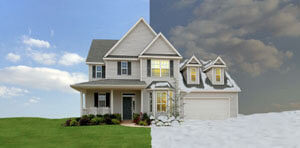 When the winter months arrive, most homeowners feel happy thinking about the lawn care. Although you don't need to water your lawn grass daily, you need to regularly maintain your yard and home throughout the winter too. For a healthy lawn and garden, you need to mow, prune and nourish your lawn grass and plants.

Similarly, you will have to check your sprinkler system to see there is no water in the pipes as it may lead to ice formation in the freezing cold. Just by following simple tips, you can maintain your property easily in the winter months. Alternatively, you can hire an experienced property maintenance team to do the job for you.
Put Your Lawn Care Sprinklers to Sleep:
You don't need to water your lawns during winter. Because of the mist and low humidity, your lawn does not need frequent watering. Shutting the sprinkler off is not the only thing that you need to do. Drain your lawn sprinkler system properly to avoid busted pipes. Because of the water sediment, even the underground sprinkler pipes can freeze and lead to the formation of ice.
Hire a Property Maintenance Company:
If you are unsure what to do, then hire a lawn maintenance team so that the job is done the right way.
Care for Your Lawn by Mowing and Edging:
Even though you are in winter, your lawn needs maintenance. Although you don't need to do the frequent mowing as you used to do in summer, your lawn need at least a late fall mowing because the grass are still in a growth phase.
Apex Concrete and Concrete is a leader in providing Calgary homeowners with landscaping and concrete services that last. Apex Concrete has the experience to design a unique space that suits your tastes and respects your budget. Transform your outdoor space into something spectacular.
Questions or comments? Contact us by phone at 1 (403) 333-6633 or email us at [email protected] www.apexlandscapingltd.com
Save