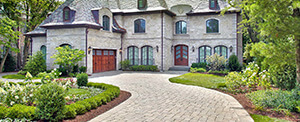 Interlocking stone is a popular choice to add beauty to driveways, patios, and walkways. This type of stone is strong, durable and easy to clean and install. However, proper maintenance of your interlocking stone walkway or driveway will ensure that it retains its beauty season after season. Here are some tips to keep your interlocking concrete looking and functioning its best.
Pressure Wash Your Interlocking Stone
A cold winter can be particularly harsh on your interlocking stone pathway or driveway because of freezing temperatures and large amounts of snow. Keep your interlocking stone looking its best with a pressure wash. This can help to remove salt stains and buildups that may occur. If you do not own a pressure washer, a landscaping company will be able to help.
Replace Cracked Interlocking Stones
In the winter, Calgary is prone to significant temperature changes due to the chinook winds. This leads to a freeze-thaw cycle that can cause your interlocking stone driveway or walkway to crack. After the winter season, replace broken paving stones by removing the broken stone and replacing it with a new one. If your driveway or pathway looks a little worse for wear, a landscaping company can help determine the extent of the repairs and help you get your pathway or driveway looking great again.
Professional Interlocking Stone Installation Minimizes Future Damage
Although interlocking stone is relatively low maintenance, professional stone installation will help minimize and prevent future problems, which may cost a lot to repair. Proper base stabilization can help reduce stone movement and prevent your interlocking stone from settling improperly.
Contact Apex Concrete Services Ltd. today to learn more about adding interlocking stone to your driveway or walkway.
Apex Concrete and Concrete is a leader in providing Calgary homeowners with landscaping and concrete services that last. Apex Concrete has the experience to design a unique space that suits your tastes and respects your budget. Transform your outdoor space into something spectacular. Questions or comments?
Contact us by phone at 1 (403) 333-6633 or email us at [email protected] www.apexlandscapingltd.com