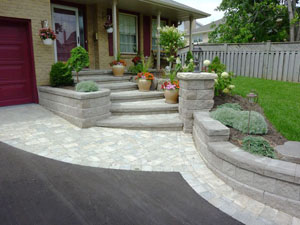 Interlocking stone and brick combinations can add an aesthetic appeal to patios, driveways and pathways in your home. These options are unique and durable and also have an easy installation process. There are endless styles options for these interlocking stones and brick combinations. You will find many varieties and patterns available in more than one color and options to match suit interest and style. Whether you want a geometric pattern interlocking stone and brick combination or a natural shade of stone to add instant curb appeal to your home, there are many choices available. Before starting your next interlocking brick and stone project, here is some helpful information for you.
Easy Installation with Interlocking Stone & Brick
When it comes to the installation process for interlocking brick or stone, homeowners will be happy to know that the process is very easy. When you hire a contractor to do it, you don't have to worry about the length of the project. Just by using the right technique, these interlocking stones and bricks can be easily installed in a day or two.
Interlocking Stone & Brick are Stable and Durable
Unlike other patio overlays and faux flooring options, the interlocking stone and brick combination is stable and durable. A installation project completed by an experienced contractor will ensure that each tile or stone will remain in their original position and will not shift or dip due to changing weather conditions.
Interlocking Stone & Brick are Suitable for any Home
Interlocking stone and brick are popular choices for homeowners. Whether you want to upgrade your patio or pathways, or update the style, these stones and bricks are great choices for any homeowner.  Natural looking shades are available and beautiful patterns of these interlocking stones and bricks will add aesthetic beauty to your home. Interlocking stone and brick can be used for walkways, pool decks, patios and even for driveways.
Interlocking Stone & Brick are Easy to Maintain
A big advantage of the interlocking stone and brick is that maintenance is hassle-free and can easily be cleaned. A simple power wash is enough to clean the bricks and stones. Because these stones and bricks do not lose their color, they last for a long period time without chipping, fading or staining. Damaged pieces can also be easily removed and replaced.
Apex Concrete and Concrete is a leader in providing Calgary homeowners with landscaping and concrete services that last. Apex Concrete has the experience to design a unique space that suits your tastes and respects your budget. Transform your outdoor space into something spectacular.
Questions or comments? Contact us by phone at 1 (403) 333-6633 or email us at [email protected]
www.apexlandscapingltd.com