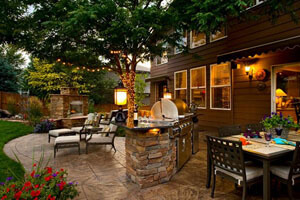 A house with a beautifully remodeled exterior, driveway, patio and sidewalk can drastically improve its value in the market. Homeowners don't have to spend a fortune on remodeling these areas. With new concrete pad and tile options, you can create a beautiful setting in your patio, backyard and in decks and without even spending more money.
Why a Concrete Layout is a Better Choice?
When a home's elevation is complete, its curb appeal soars undoubtedly. Similarly, without a good-looking driveway and backyard, your home will not look updated and complete. Adding pattern and texture to your pavement and patio is now easy when you choose a modern concrete layout. A concrete driveway is a better choice than asphalt, because it doesn't wear off easily. Even in extreme weather conditions, concrete bricks, tiles and pads don't crack and resist shifting easily. If choosing concrete garage pads, then you will be happy to know that these pads are very durable and can withstand heavy weight of multiple vehicles at a time. For your deck makeover, the modern patterned concrete choices are the perfect options. These not only give a stylish touch to your deck, but it also compliments the stone and brick elevations in any home.
Things to Consider While Choosing Concrete for Your Patio, Deck and Driveway:
Get Creative With Color of the Concrete:
While choosing concrete pads for your driveway or deck, choose any of those patterned and colorful concrete . These patterned pads add a texture and offer a dramatic multi-tonal effect through color layering. New varieties of concrete for decks come in geometric, circular and even combination patterns with multiple color and texture choices.
Choose Patterned and Colorful Overlays:
Top your existing concrete driveway or deck with overlays. These patterned and colorful overlays rejuvenate the look of your existing concrete. Many companies now offer a variety of concrete and polymer overlays ideal for smooth and rough surfaces.
Choose Concrete Garage Pads as Per Your Choice:
Concrete garage pads are modern, sleek and durable. With many choices of residential and commercial garage pads, you will surely find the ideal choice of garage pads for your driveway.
Installation and Maintenance of your New Concrete Layout:
You can contact your local contractor for easy installation of garage pads and concrete decks.
Apex Concrete and Concrete is a leader in providing Calgary homeowners with landscaping and concrete services that last. Apex Concrete has the experience to design a unique space that suits your tastes and respects your budget. Transform your outdoor space into something spectacular.
Questions or comments? Contact us by phone at 1 (403) 333-6633 or email us at [email protected]
www.apexlandscapingltd.com