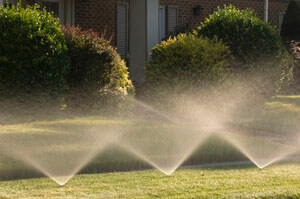 With a sprinkler system installed, you don't have to worry about your lawn and garden anymore. The only way to keep your landscape lush and thriving is with supplementary irrigation. New and modern sprinkler systems also have auto-timers and sensors. That means when your lawn is already wet during a rainy afternoon, your sprinkle system will automatically shut the timer. Plus, you don't have to find time for the cumbersome job for everyday and frequent watering your garden and lawn. Here are some top benefits of installing a sprinkler system on your property.
A Sprinkler System Makes Water More Convenience:
When you choose to install a lawn sprinkler system, you can set the timer for frequent watering. Depending on the weather condition and the landscape, you can choose the length of watering and the time too.
Maintain Your Lawn's Health:
A well-maintained lawn looks healthy and lush. This is the obvious benefit of a lawn sprinkler system. With regular irrigation and watering at the right level, your lawn grass will show optimal and healthy growth. Plus, a green and beautiful lawn will add value to your property too. Therefore, a lawn sprinkler system is more than a convenience.
Auto Sensor Option on a Sprinkler System Saves Water:
The new lawn sprinklers have auto-sensor systems. Your sprinkler will adequately water your lawn during dry and arid days. If there is rainfall, the sprinkle system's rain sensor will detect the moisture in soil and will stop the system from running. Plus, sprinkler systems water your landscaped area sufficiently. That means you don't have to worry about excess water usage and wastage when you have a sprinkler system installed.
Modern Lawn Irrigation System Varieties:
The new types of lawn sprinklers include two choices: spray sprinkler and drip sprinkler system . While the spray irrigation is best for light soil and landscaped areas, drip irrigation is best for gardens with a variety of plants. Spray irrigation is easier to install, and it involves water spraying over the lawn. The drip irrigation, in contrast, involves water moving through the installed buried tubes with holes that allow the water to reach the lower layers of soil. This system focuses on water reaching the plant roots.
Apex Concrete and Concrete is a leader in providing Calgary homeowners with landscaping and concrete services that last. Apex Concrete has the experience to design a unique space that suits your tastes and respects your budget. Transform your outdoor space into something spectacular.
Questions or comments? Contact us by phone at 1 (403) 333-6633 or email us at [email protected]
www.apexlandscapingltd.com
Save