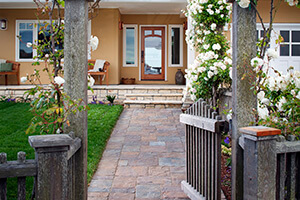 Make your home charming and storybook perfect by adding interlocking stone. With endless options for patterns, colours, and designs, you can turn a simple driveway or path into a beautiful and interesting outdoor element with the help of a Calgary concrete contractor. Consider the following options:
Driveway
Transform your driveway from drab to stunning with Calgary interlocking stone. Give your home a classy feel by creating an aesthetic entry point that complements your personal style. You can also easily transition to an interlocking stone walkway with the help of a Calgary concrete contractor.
Walkways
A well-constructed walkway does more than provide a place to walk; it sets the mood for your entire yard. Whether you are looking for a path to welcome people to your front door or a path to the garden,  Calgary interlocking stone provides a variety of options to create the beautiful walkway you desire.
Patios
Create a private sanctuary to unwind, entertain guests, and enjoy life with an interlocking stone patio. You can personalize your patio the same way you do the rest of your house with beautiful and versatile Calgary interlocking stone. Your custom designed patio is a perfect way to let your individual style shine.
Calgary Interlocking Stone
The benefits of adding visual interest with interlocking stone are numerous. A Calgary concrete contractor can offer a variety of patterns, colours, and options that are vast, so you are sure to find something that perfectly fits the space and expresses your personality. They work great with any architectural style, and add instant curb appeal to your home.
When you are ready to upgrade your home with interlocking stone, talk to Apex Concrete. As your leading Calgary concrete contractor, we specialize in beautiful interlocking stone installation. Contact us today or request an estimate.