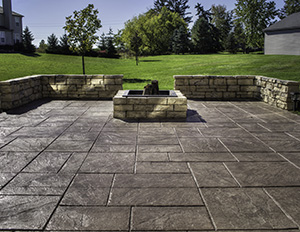 Create a beautiful concrete patio that you will enjoy for many years. There are a few ways the concrete can enhance your sanctuary. A concrete patio can provide the perfect place to enjoy a warm breeze on a summer evening and it can also serve as a good gathering place for entertaining family and friends.
Benefits of a Concrete Patio
The benefits of using concrete for a patio include the option to have it decorated any way you choose. When you choose to have engraved concrete, stamped concrete, textured concrete, or stenciled concrete, it adds a personal and versatile look. It will enhance your sanctuary with a natural style that is unlike any other patio. This look will help to set your home apart from others in the neighborhood and add value to your home. You can work with a concrete contractor to design the perfect look for your patio.
Concrete is Durable and Easy to Maintain
Creating your unique outdoor space with concrete also adds another benefit: durability. A properly installed concrete patio is made to reduce cracking and last longer. Your oasis will stay beautiful and last for many years. Concrete patios are also simple and easy to maintain. You do not have to worry about weeds and grass sprouting up in numerous places. Unlike wood, it is not prone to termites and it does not splinter or deteriorate.
Add Extra Entertainment Space with Concrete
Your patio is an extension of your home offering more space for any activity you feel like doing. From a romantic dinner to a barbecue, when concrete is used for the patio it is perfect for placing outdoor furniture, a grill, or a table for two. Concrete is a more affordable option when compared to other materials and provides many benefits including being environmentally friendly.
Speak to our concrete professionals about designing your concrete patio.
Apex Concrete and Concrete is a leader in providing Calgary homeowners with landscaping and concrete services that last. Apex Concrete has the experience to design a unique space that suits your tastes and respects your budget. Transform your outdoor space into something spectacular.
Questions or comments? Contact us by phone at 1 (403) 333-6633 or email us at [email protected]
www.apexlandscapingltd.com