Concrete contractors Calgary: the cost of concrete per square foot 
Concrete can be a versatile and beneficial material to install onto your property, whether it be for your driveway or for a new patio in your backyard. But before you begin to pursue concrete installation, you may be wondering, what is the cost? Unfortunately, there isn't just one number when it comes to concrete installation as there are many factors that can increase the total cost. Some of the considerations you should keep in mind are the extent of the installation project, whether you want to hire concrete contractors Calgary or do it yourself, and the exact type of installation you want on your property. 
Discover all that you need to know about concrete installation and how much it costs per square foot. 
Factors
There are different factors that will determine the cost of concrete installation. Some of these factors can include:
The thickness of the concrete

The labour, if it's hired or not, and the amount of equipment that is needed 

The base of the concrete 

The materials that are used to install the concrete

The project that is being completed and the intensity of it 

The finish of the concrete installation 
Cost per square foot
According to Home Guide, the average cost of a concrete slab installation is typically priced between $4 to $8 per square foot or $113 to $126 per cubic yard. These prices can include installation and materials but they can inflate depending on the slab size and if you require extra reinforcement like wire mesh. When you begin this project, you should try to budget as accurately as possible and calculate for potential losses, such as spills. Additionally, you should inquire about your local building codes since some projects you want on your property can have particular requirements.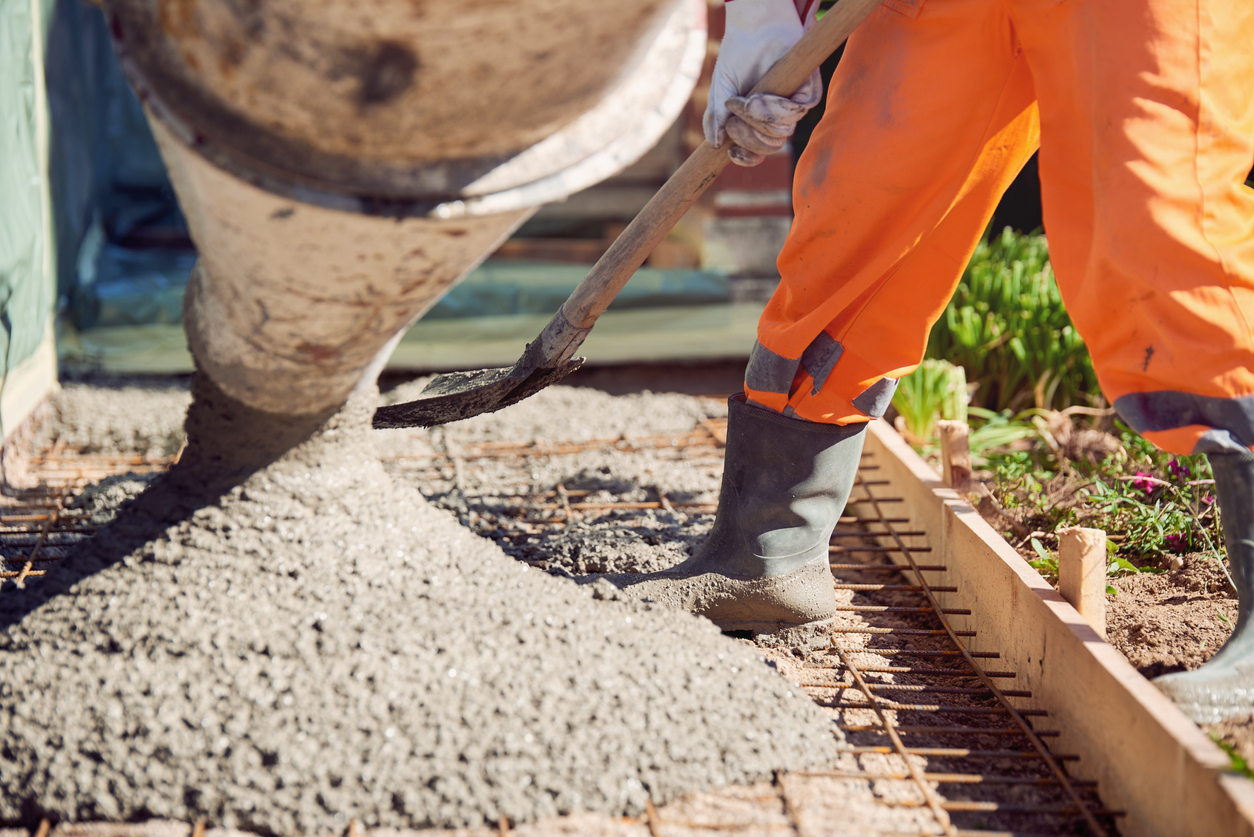 Installation cost
Concrete installation is complex and intensive work, where demolition, edging, and prep reinforcement are all messy requirements for proper installation. Although you may want to try to do this project yourself to save money, it is advisable to hire professional labour if you have little to no experience in concrete installation. Typically, hiring concrete contractors in Calgary to assist in any property project revolving around concrete can cost $2.50 per square foot or $45 per hour. 
Materials 
There can be additional materials that can be used to reinforce the concrete slab itself. Of course, these materials will increase the price of installation but can help maintain the concrete and ensure that it will endure and sustain damages for a longer period of time. The cost of these materials can be as follows:
White mesh: $0.35 per square foot

Rebar: $1.60 per square foot

Vapour barrier: $0.50 per square foot

2-inch styrofoam under-slab: $0.50 per square foot
Projects
Depending on the project that requires the cement slab installation, the total cost can vastly increase. If you are seeking a patio slab, you can expect costs ranging from $5 to $11 per square foot while a slab used for a driveway can be priced at $4 to $8 per square foot, but prices will increase if you want patterns and colours installed as well. Additionally, other projects, like concrete slabs used for a shed or garage, can cost anywhere between $600 to $5000, depending on the size and labour involved. 
As the leading concrete contractors in Calgary, Apex Concrete is ready to take your outdoor space to the next level. Our expertise, high-quality workmanship, and landscaping services will transform your home into the oasis you've always wanted. As the top-tier professional concrete company in Calgary, we know how to customize our services to suit your style and taste. Whether it's forming a concrete patio for summer BBQs, relaying your concrete driveways, or adding the finishing touches to your home's entrance, we can execute your plan to perfection. Our concrete and landscaping services will make you fall back in love with your home. Transform your home with our concrete contractors. Contact us at 403-333-6633 or [email protected] today.